PART 4 of my IMG's Road to Australia series.
<< PART 3 : Latest update – of EICS, AMC Portfolio & Fee Structure
So far, we have gone through the pre-AMC exam sign-up paperworks & setting up your AMC portfolio.
We have discussed about the English test too (which in my opinion is best taken when things are more certain due to the 2year's validity period).
Next : Sign up for a date for MCQ (Part 1).
Exam format – Single Best Choice (of 5), with NO negative marking!
What next?
STUDY!! 😀
---
The best time to take these exams would be fresh out of medical school – will ace parts 1 & 2 without much trouble, no doubt! However, as doe-eyed hopeful new doctors on board in our respective countries, how many of us would have decided to embark on the road less travelled (upon graduation)?
Studying while working is no joke. Especially if you are taking up self study, and there are no official study breaks. But it isn't impossible! I have come across a good number of candidates who did it on their own salute.

Introducing the bible for AMC MCQ exam – THE BLUE BOOK!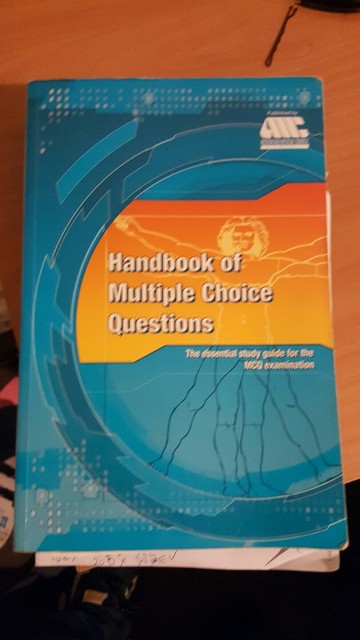 Beautiful explanation for each question. Some of these questions do get tested, though not much. But it covers the common topics & gives one an idea of how to approach the exam.
To be honest, I hardly touched my copy of this book while I was in Malaysia. Working full time didn't allow me much time to study. And our so-called study dates ended up being movie dates or chill out sessions – LOL.
---
My mates and I enrolled for the VMPF preparatory course for Part 1 back in winter 2012, in Melbourne, which is now home to me.
VMPF has since changed name to HEAL.
These 2 are among the providers of AMC Part 1 (MCQ) bridging course:
1/ HEAL – 6 week course. Location : Melbourne & Sydney
2/ https://www.arimgsas.com.au/product/online-mcq/ – 5 week course. Location : Melbourne & Online.
It is interesting to note the latter offers Online tutorials too. I don't know of anyone who have done it, do share your experience if you have.
Both offer trial exams. Even if you aren't enrolled for the bridging course, but want to assess where you stand, you may give the trial exams a go.
In short, I found the course helpful though tiring. It was a pseudo-holiday in Melbourne. Mainly I was indoor in a heated room, with 20+ other candidates, stuffing our brains with exam-oriented information. We were learning to tackle the questions, the exam technique. The intensive course and the 2 trial exams (at the beginning & end of the course) prepared me well for my exam which was a couple of weeks after my course ended.
I stayed on for 2 weeks in Melbourne & appeared for my MCQ exam here. Main reason being, if I went home, I knew I would have back to the daily grind. Having study partners in the same library helped!
To date, I don't know my CBD as well as some holiday-goers do! Still exploring it…
*
I digress. Back to the Blue Book – managed to finish it during the course, and another round during my study break. The notes and approach learnt from my course & discussions helped me Pass Part 1 at the first attempt. In fact, almost everyone I know from my course Passed at the first attempt.
---
AMC MCQ exam venues – in Australia & overseas.
My fellow Malaysians, there isn't a centre in KL. Bangkok or Singapore would be the closest.

All the best to all AMC Candidates!
Link to Frequently Used Terms/ Acronyms